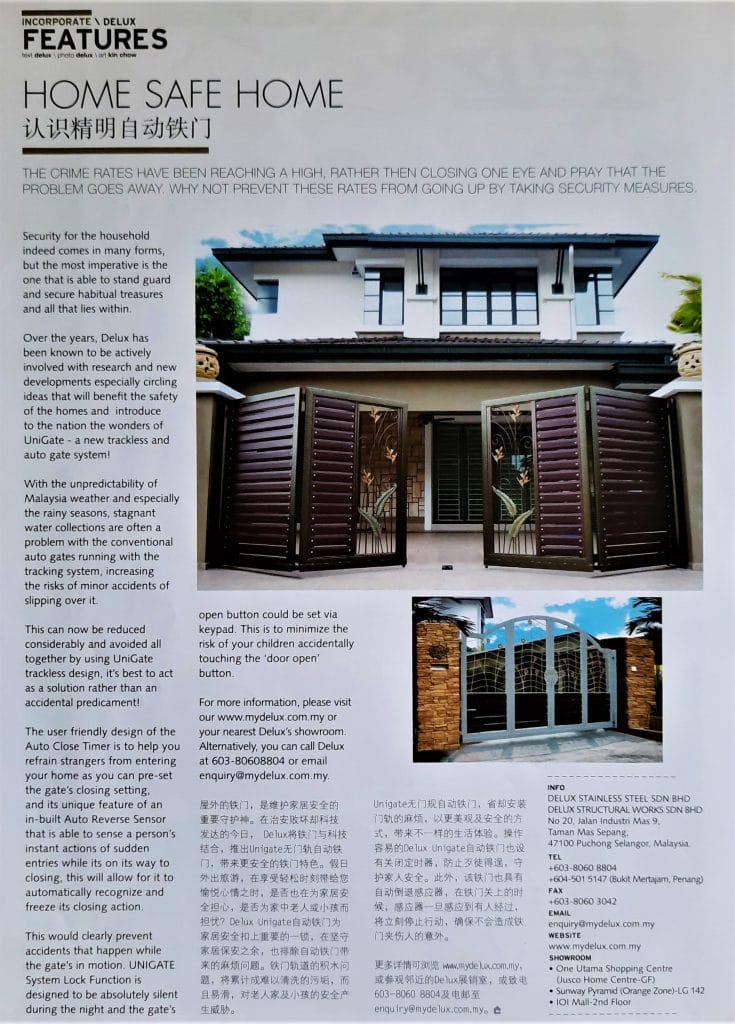 THE CRIME RATES HAVE BEEN REACHING A HIGH, RATHER THEN CLOSING ONE EYE AND PRAY THAT THE PROBLEM GOES AWAY. WHY NOT PREVENT THESE RATES FROM GOING UP BY TAKING SECURITY MEASURES.
Security for the household indeed comes in many forms, but the most imperative is the one that is able to stand guard and secure habitual treasures and all that lies within.
Over the years, DELUX has been known to be actively involved with research and new developments especially circling ideas that will benefit the safety of the homes and introduce to the nation the wonders of UniGate – a new trackless and auto gate system!
With the unpredictability of Malaysia weather and especially the rainy seasons, stagnant water collections are often a problem with the conventional auto gates running with the tracking system, increasing the risks of minor accidents of slipping over it.
This can now be reduced considerably and avoided all together by using UniGate trackless design, it's best to act as a solution rather than an accidental predicament!
The user friendly design of the Auto Close Timer is to help you refrain strangers from entering your home as you can pre-set the gate's closing setting, and its unique feature of an in-built Auto Reverse Sensor that is able to sense a person's instant actions of sudden entries while it's on its way to closing, this will allow for it to automatically recognize and freeze its closing action.
This would clearly prevent accidents that happen while the gate's in motion. UniGate System Lock Function is designed to be absolutely silent during the night and the gate's open button could be set via keypad. This is to minimize the risk of your children accidentally touching the 'door open' button.