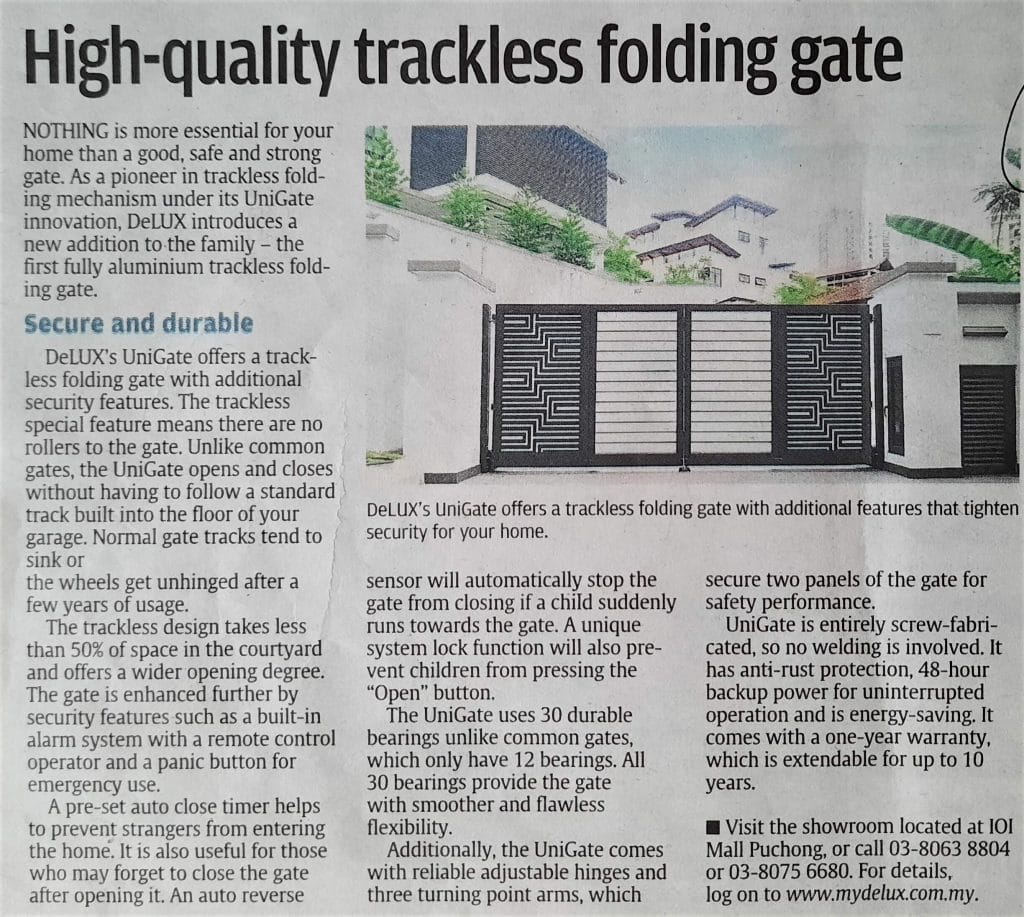 Nothing is more essential for your home than a good, safe and strong gate. As a pioneer in trackless folding mechanism under its UniGate innovation, DELUX introduces a new addition to the family – the first fully aluminium trackless folding gate.
Secure and durable
DELUX's UniGate offers a trackless folding gate with additional security features. The trackless special feature means there are no rollers to the gate. Unlike common gates, the UniGate opens and closes without having to follow a standard track built into the floor of your garage. Normal gate tracks tend to sink or the wheels get unhinged after a few years of usage.
The trackless design takes less than 50% of space in the courtyard and offers a wider opening degree. The gate is enhanced further by security features such as a built-in alarm system with a remote control operator and a panic button for emergency use.
A pre-set auto close timer helps to prevent strangers from entering the home. It is also useful for those who may forget to close the gate after opening it. An auto reverse sensor will automatically stop the gate from closing if a child suddenly runs towards the gate. A unique system lock function will also prevent children from pressing the "Open" button.
The UniGate uses 30 durable bearings unlike common gates, which only have 12 bearings. All 30 bearings provide the gate with smoother and flawless flexibility.
Additionally, the UniGate comes with reliable adjustable hinges and three turning point arms, which secure two panels of the gate for safety performance.
UniGate is entirely screw-fabricated, so no welding is involved. It has anti-rust protection, 48-hour backup power for uninterrupted operation and is energy-saving. It comes with a one-year warranty, which is extendable for up to 10 years.