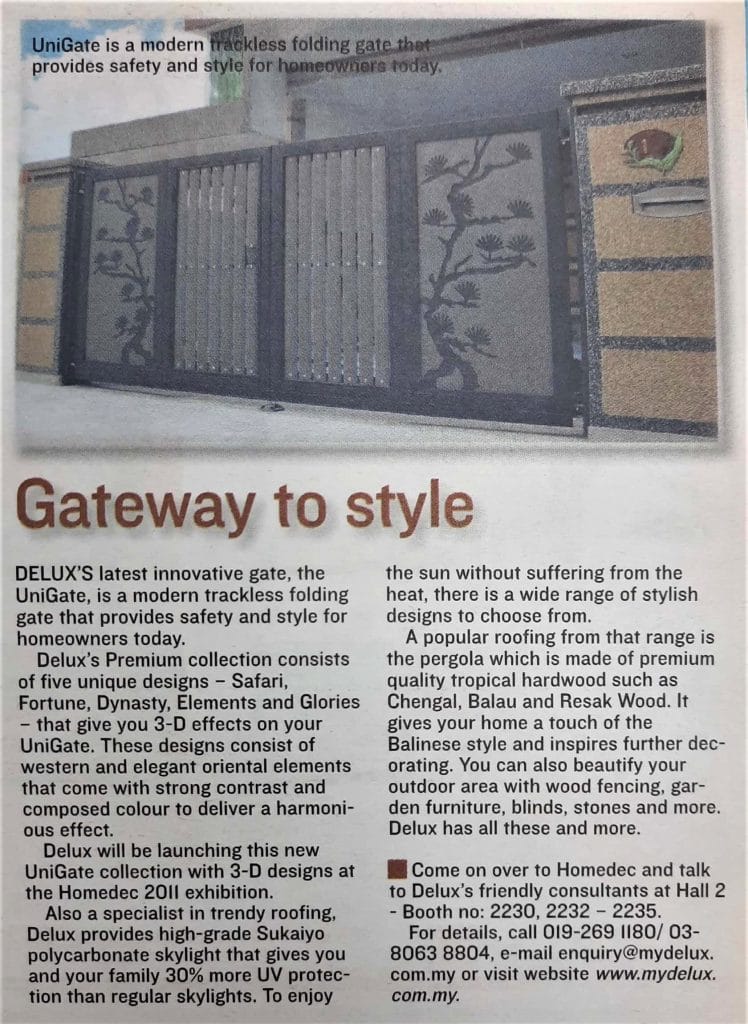 DELUX's latest innovative gate, the UniGate, is a modern trackless folding gate that provides safety and style for homeowners today.
DELUX's Premium collection consists of five unique designs – Safari, Fortune, Dynasty, Elements and Glories that give you 3-D effects on your UniGate. These designs consist of western and elegant oriental elements that come with strong contrast and composed colour to deliver a harmonious effect.
DELUX will be launching this new UniGate collection with 3-D designs at the HomeDec 2011 exhibition.
Also a specialist in trendy roofing, DELUX provides high-grade Sukaiyo polycarbonate skylight that gives you and your family 30% more UV protection than regular skylights. To enjoy the sun without suffering from the heat, there is a wide range of stylish designs to choose from.
A popular roofing from that range is the pergola which is made of premium quality tropical hardwood such as Chengal, Balau and Resak Wood. It gives your home a touch of the Balinese style and inspires further decorating. You can also beautify your outdoor area with wood fencing, garden furniture, blinds, stones and more. DELUX has all these and more.