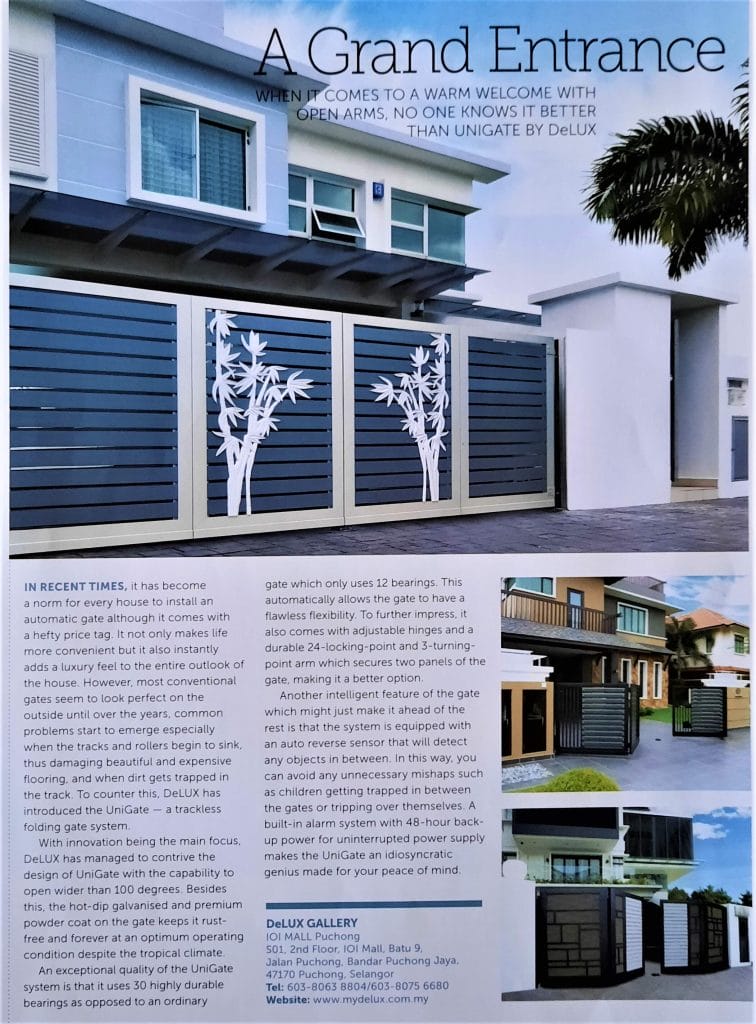 In recent times, it has become a norm for every house to install an automatic gate although it comes with a hefty price tag. It not only makes life more convenient but it also instantly adds a luxury feel to the entire outlook of the house. However, most conventional gates seem to look perfect on the outside until over the years, common problems start to emerge especially when the tracks and rollers begin to sink, thus damaging beautiful and expensive flooring, and when dirt gets trapped in the track. To counter this, DELUX has introduced the UniGate – a trackless folding gate system.
With innovation being the main focus, DELUX has managed to contrive the design of UniGate with the capability to open wider than 100 degrees. Besides this, the hot-dip galvanised and premium powder coat on the gate keeps it rust free and forever at an optimum operating condition despite the tropical climate.
An exceptional quality of the UniGate system is that it uses 30 highly durable bearings as opposed to an ordinary gate which only uses 12 bearings. This automatically allows the gate to have a flawless flexibility. To further impress, it also comes with adjustable hinges and a durable 24-locking-point and 3-turning-point arm which secures two panels of the gate, making it a better option.
Another intelligent feature of the gate which might just make it ahead of the rest is that the system is equipped with an auto reverse sensor that will detect any objects in between. In this way, you can avoid any unnecessary mishaps such as children getting trapped in between the gates or tripping over themselves. A built-in alarm system with 48-hour backup power for uninterrupted power supply makes the UniGate an idiosyncratic genius made for your peace of mind.