DELUX UniGate – The First Line Defense of Your Home
Gate is a first line defense of your home. A low-quality gate will compromise the security of your home. A traditional folding gate only locks 2 out of 4 panels of the gate and it is operated by rollers, which are not only unstable but also easier to break down by the robbers. This jeopardizes the safety of your family and your home.
An autogate is vital in maintaining the security of your home. In this article, we are going to introduce what is trackless folding autogate and highlight its benefits and features.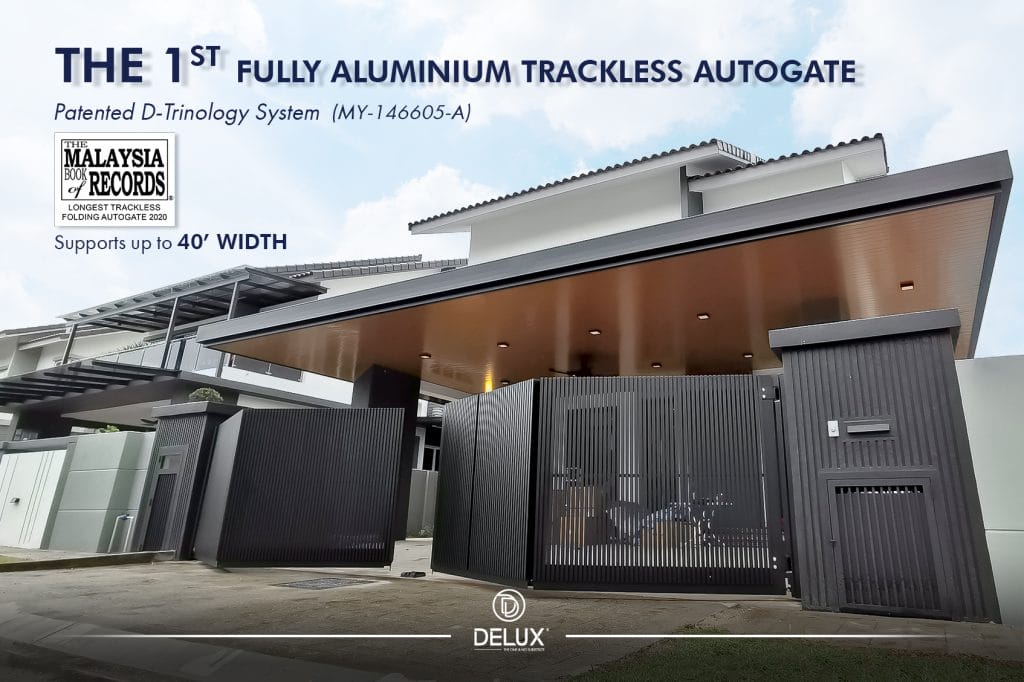 What is trackless folding gate?
The trackless folding autogate is made specifically with the aim of maximizing space on a property. The name "trackless" is also one of the reasons why it creates convenience for the homeowners as it requires low maintenance and there will be no derailment issue. The trackless folding autogate is useful because it does not require tracks to be installed at the entrance of the property. This means that there will not be any damage done to the surface where it is installed as there would have been if tracks had been used.
Is trackless folding gate really space saving?
Unlike the swing gate that requires a lot of space in front the gate for the gates to open outwards, the trackless folding autogate does not take up a lot of space. The foldable gate has 2 panels on each side which fold the back of the side in a single direction. This decreases the space required to operate the gate. After all, these fold into themselves to open, which means that they're a well-known option for smaller driveways because they make the most of the room on offer.
Is trackless folding gate easy to maintain?
Trackless folding gates require routine servicing and maintenance to ensure that they remain in a perfect working condition, but definitely with a much lower maintenance compared to any other gate. It is also easy to clean because they do not have tracks that collect dirt and debris. A simple wipe down with a damp cloth is usually all that is needed to keep the gate clean. Most importantly, aluminium trackless folding gate is totally rust-free and you do not need to repaint the gate on a regular basis.
What are the benefits of DELUX UniGate trackless folding autogate?
With the bundle of options available to the modern properties, finding the correct type of gate for your needs can be a problem. Though certain living conditions or space needs might be leading you to opt for a trackless folding gate. The trackless folding gate is ideal for inner-city living, narrow and short driveways, units in apartment complexes, garages, general business entrance, or basement parking.
Here are many advantages that can help you decide:
Enhance Your Home Security
Worry-free on any forced break-in with DELUX's Patented 3 Turning Arm Lock System. It was invented to lock every gate panel and strengthen your house's security, making it difficult to push and pull from intruders.
Chemical Treatment and Powder Coating Process
A raw aluminium process with chemical purification to remove soil and oil debris prior to the coating process, to perfectly enhance the powder getting coated on the materials for long-lasting purposes. Most importantly, no repaint is needed. Most importantly, our powder coating process is to be done in-house to ensure that no dust or dirt is stained with.
Two-face Robotic Welding Technology
The trackless autogate production with German Technology to ensure the inner and outer of the aluminium frame are welded robotically in an optimum standard for better gate durability and defense without any human error. 80% of the materials are being machine molded in order to ensure the good quality of the product, as well
as ensure that its maintenance is lower than the conventional gate.
Aesthetic Designs
Another reason why people end up using DELUX UniGate is that it helps in adding to the aesthetic of the property. DELUX has up to 1,250 designs and color combinations for you to choose from, bringing out the deluxe feeling of your home and also makes it unapproachable for passersby.
Space Saving
When you're working with a restricted or limited area, an autogate that folds instead of swinging wide open can be a great asset. This is because a standard double swing gate would take up a lot of space when it opens. A trackless folding autogate, however, does not take up a lot of space as it folds smaller into place.
If you are interested in DELUX's products, you may visit our website at www.mydelux.com.my or contact us at +603 8066 8804 to find out more.