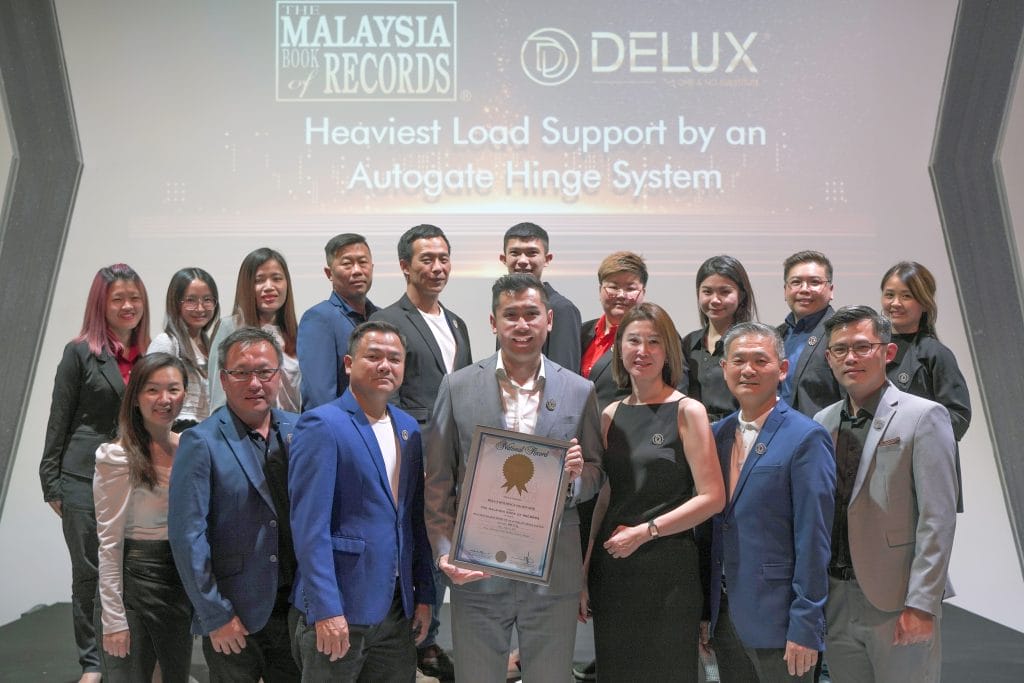 We are thrilled to congratulate DELUX Holdings (M) Sdn. Bhd. on their latest accomplishment – breaking the "Heaviest Load Support by an Autogate Hinge System" record in the Malaysia Book of Records. SIRIM, the official certification body, has certified an impressive total test load of 4588.72kg, setting a new standard for other companies to aspire to in terms of certification and record-breaking.

DELUX UniGate, the first fully aluminium trackless folding autogate system in Malaysia, is a true testament to DELUX's commitment to innovation and quality. Their patented trackless autogate system (MY-144605-A) is equipped with the signature D-Trinology system, ensuring optimal gate stability through the patented 360 adjustable hinges, which provide a larger gripping area to firmly hold gates sized up to 40ft, while allowing for timeless alignment.

We extend our gratitude to DELUX's research and development (R&D) team, whose hard work and continuous innovation have been instrumental in delivering the cutting-edge technologies that enhance people's quality of life, a mission that is deeply ingrained in DELUX's values.

With 19 years of experience in the trackless autogate development industry, DELUX aims to lead the Southeast Asia security home products industry in the future. We look forward to seeing more achievements to be met by DELUX, as they continue to push the boundaries of innovation and quality.
If you are interested in DELUX's products, you may visit our website at www.mydelux.com.my or contact us at +603 8066 8804 to find out more.