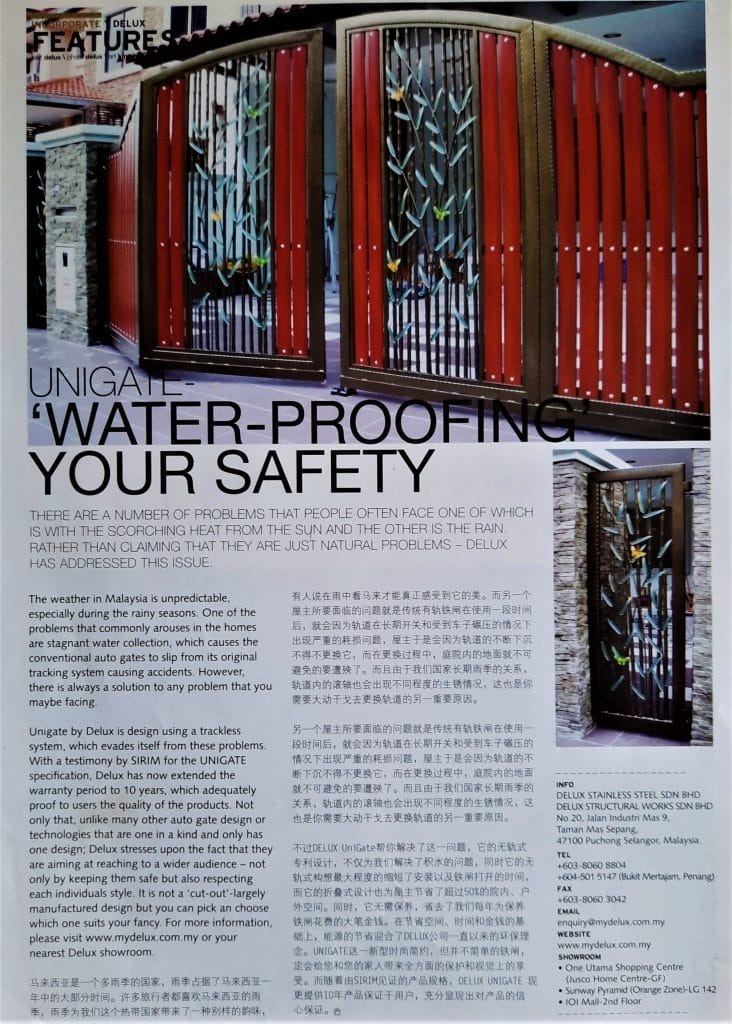 THERE ARE A NUMBER OF PROBLEMS THAT PEOPLE OFTEN FACE ONE OF WHICH IS WITH THE SCORCHING HEAT FROM THE SUN AND THE OTHER IS THE RAIN. RATHER THAN CLAIMING THAT THEY ARE JUST NATURAL PROBLEMS – DELUX HAS ADDRESSED THIS ISSUE.
The weather in Malaysia is unpredictable, especially during the rainy seasons. One of the problems that commonly arouses in the homes are stagnant water collection, which causes the conventional auto gates to slip from its original tracking system causing accidents. However, there is always a solution to any problem that you maybe facing.
UniGate by DELUX is design using a trackless system, which evades itself from these problems. With a testimony by SIRIM for the UNIGATE specification, DELUX has now extended the warranty period to 10 years, which adequately proof to users the quality of the products. Not only that, unlike many other auto gate design or technologies that are one in a kind and only has one design; DELUX stresses upon the fact that they are aiming at reaching to a wider audience – not only by keeping them safe but also respecting each individuals style. It is not a 'cut-out'-largely manufactured design but you can pick and choose which one suits your fancy.