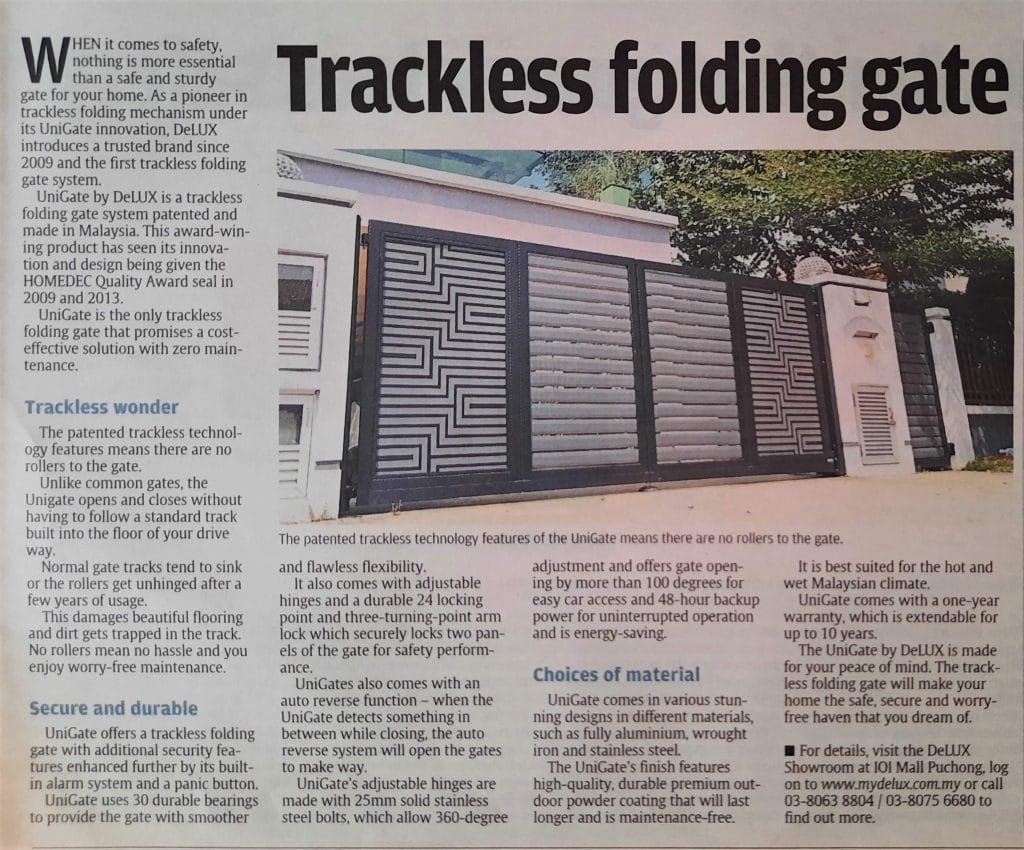 When it comes to safety, nothing is more essential than a safe and sturdy gate for your home. As a pioneer in trackless folding mechanism under its UniGate innovation, DELUX introduces a trusted brand since 2009 and the first trackless folding gate system.
UniGate by DELUX is a trackless folding gate system patented and made in Malaysia. This award-wining product has seen its innovation and design being given the HOMEDEC Quality Award seal in 2009 and 2013.
UniGate is the only trackless folding gate that promises a cost effective solution with zero maintenance.
Trackless wonder
The patented trackless technology features means there are no rollers to the gate.
Unlike common gates, the UniGate opens and closes without having to follow a standard track built into the floor of your drive way.
Normal gate tracks tend to sink or the rollers get unhinged after a few years of usage.
This damages beautiful flooring and dirt gets trapped in the track, No rollers mean no hassle and you enjoy worry-free maintenance.
Secure and durable
UniGate offers a trackless folding gate with additional security features enhanced further by its built in alarm system and a panic button.
UniGate uses 30 durable bearings to provide the gate with smoother and flawless flexibility.
It also comes with adjustable hinges and a durable 24 locking point and three-turning-point arm lock which securely locks two panels of the gate for safety performance.
UniGate also comes with an auto reverse function – when the UniGate detects something in between while closing, the auto reverse system will open the gates to make way.
UniGate's adjustable hinges are made with 25mm solid stainless steel bolts, which allow 360-degreeadjustment and offers gate opening by more than 100 degrees fir easy car access and 48-hour backup power for uninterrupted operation and is energy-saving.
Choices of material
UniGate comes in various stunning designs in defferent materials, such as fully aluminium, wrought iron and stainless steel.
The UniGate's finish features high-quality, durable premium outdoor powder coating that will last longer and is maintenance-free.
It is best suited for the hot and wet Malaysia climate.
UniGate comes with a one-year warranty, which is extendable for up to 10 years.
The UniGate by DELUX is made for your peace of mind. The trackless folding gate will make your home the safe, secure and worry-free haven that you dream of.