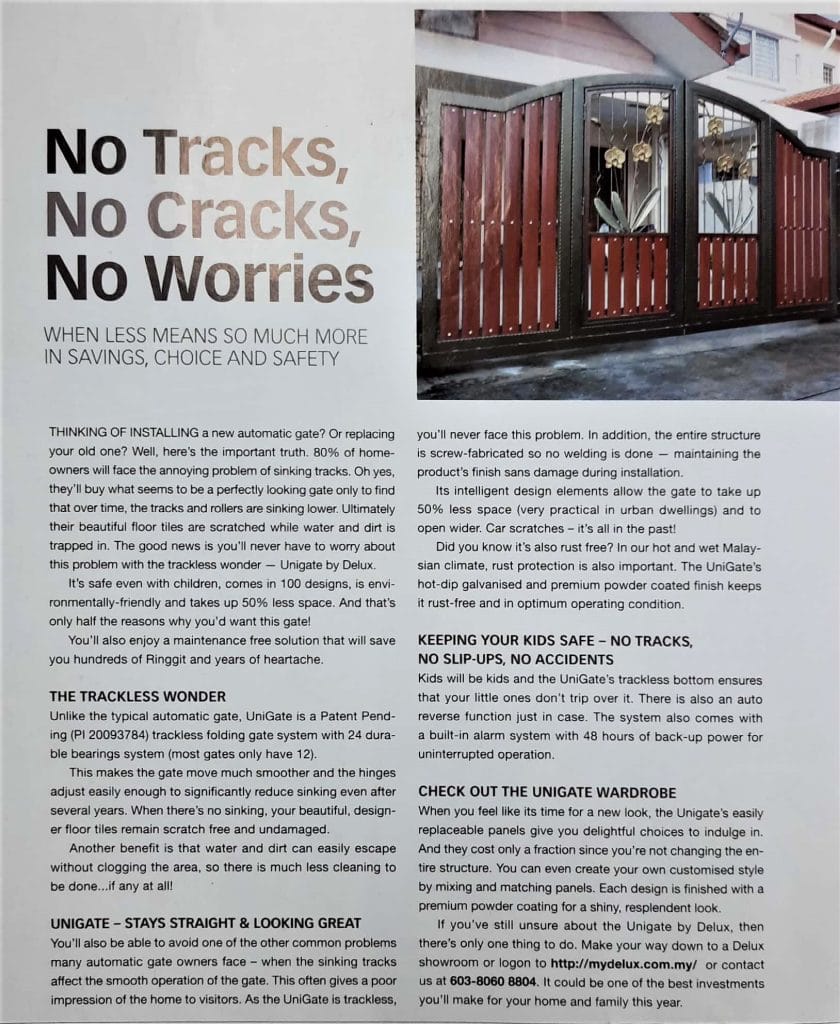 WHEN LESS MEANS SO MUCH MORE IN SAVINGS, CHOICE AND SAFETY
Thinking of installing a new automatic gate? Or replacing your old one? Well, here's the important truth. 80% of home-owners will face the annoying problem of sinking tracks. Oh yes, they'll buy what seems to be a perfectly looking gate only to find that over time, the tracks and rollers are sinking lower. Ultimately their beautiful floor tiles are scratched while water and dirt is trapped in. The good news is you'll never have to worry about this problem with the trackless wonder – UniGate by DELUX.
It's safe even with children, comes in 100 designs, is environmentally-friendly and takes up 50% less space. And that's only half the reasons why you'd want this gate!
You'll also enjoy a maintenance free solution that will save you hundreds of Ringgit and years of heartache.
THE TRACKLESS WONDER
Unlike the typical automatic gate, UniGate is a Patent Pending (PI 20093784) trackless folding gate system with 24 durable bearings system (most gates only have 12).
This makes the gate move much smoother and the hinges adjust easily enough to significantly reduce sinking even after several years. When there's no sinking, your beautiful, designer floor tiles remain scratch free and undamaged.
Another benefit is that water and dirt can easily escape without clogging the area, so there is much less cleaning to be done…if any at all!
UNIGATE – STAYS STRAIGHT & LOOKING GREAT
You'll also be able to avoid one of the other common problems many automatic gate owners face – when the sinking tracks affect the smooth operation of the gate. This often gives a poor impression of the home to visitors. As the UniGate is trackless you'll never face this problem. In addition, the entire structure is screw-fabricated so no welding is done – maintaining the product's finish sans damage during installation.
Its intelligent design elements allow the gate to take up 50% less space (very practical in urban dwellings) and to open wider. Car scratches – it's all in the past!
Did you know it's also rust free? In our hot and wet Malaysia climate, rust protection is also important. The UniGate's hot-dip galvanized and premium powder coated finish keeps it rust-free and in optimum operating condition.
KEEPING YOUR KIDS SAFE – NO TRACKS, NO SLIP-UPS, NO ACCIDENTS
Kids will be kids and the UniGate's trackless bottom ensures that your little ones don't trip over it. There is also an auto reverse function just in case. The system also comes with a built-in alarm system with 48 hours of back-up power for uninterrupted operation.
CHECK OUT THE UNIGATE WARDROBE
When you feel like its time for a new look, the UniGate's easily replaceable panels give you delightful choices to indulge in. And they cost only a fraction since you're not changing the entire structure. You can even create your own customised style by mixing and matching panels. Each design is finished with a premium powder coating for a shiny, resplendent look.