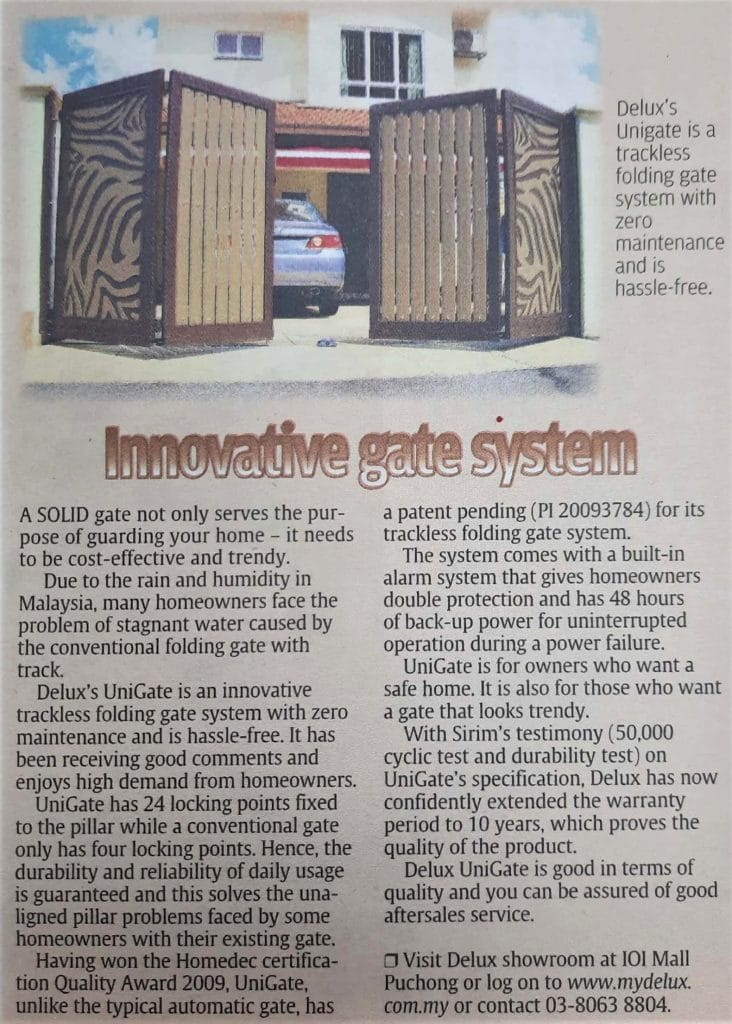 A solid gate not only serves the purpose of guarding your home – it needs to be cost-effective and trendy.
Due to the rain and humidity in Malaysia, many homeowners face the problem of stagnant water caused by the conventional folding gate with track.
DELUX's UniGate is an innovative trackless folding gate system with zero maintenance and is hassle-free. It has been receiving good comments and enjoys high demand from homeowners.
UniGate has 24 locking points fixed to the pillar while a conventional gate only has four locking points. Hence, the durability and reliability of daily usage is guaranteed and this solve the unaligned pillar problems faced by some homeowners with their existing gate.
Having won the HomeDec certification Quality Award 2009, UniGate, unlike the typical automatic gate, has a patent pending (PI 20093784) for its trackless folding gate system.
The system comes with a built-in alarm system that gives homeowners double protection and has 48 hours of back-up power for uninterrupted operation during a power failure.
UniGate is for owners who want a safe home. It is also for those who want a gate that looks trendy.
With Sirim's testimony (50000 cyclic test and durability test) on UniGate's specification, DELUX has now confidently extended the warranty period to 10 years, which proves the quality of the product.
DELUX UniGate is good in terms of quality and you can be assured of good aftersales service.