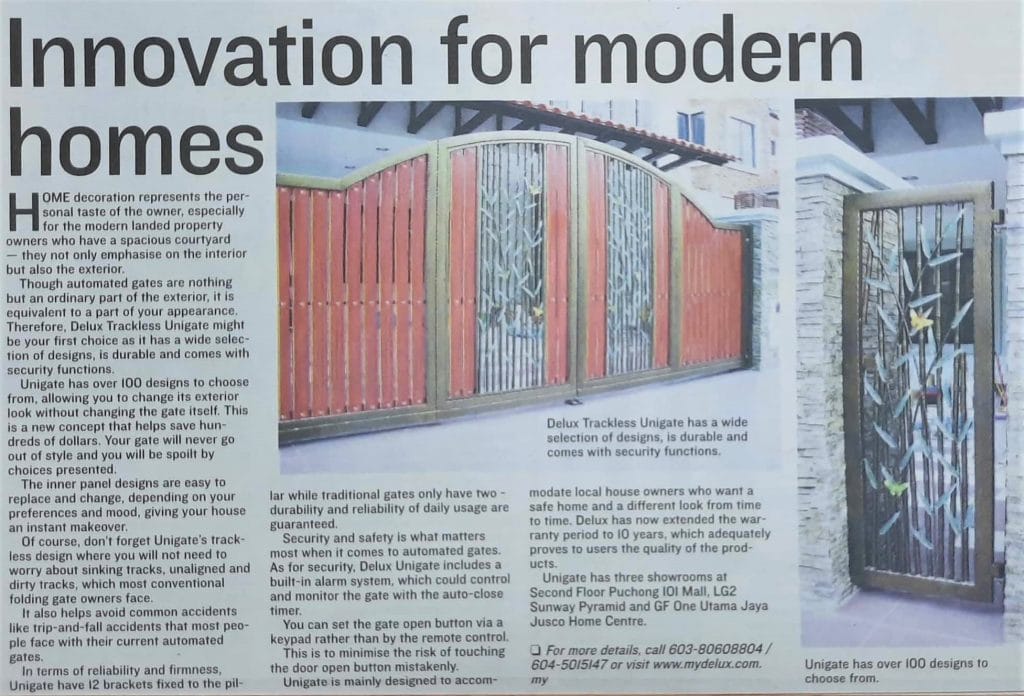 Home decoration represents the personal taste of the owner, especially for the modern landed property owners who have a spacious courtyard- they not only emphasise on the interior but also the exterior.
Though automated gates are nothing but an ordinary part of the exterior, it is equivalent to a part of your appearance. Therefore, DELUX Trackless UniGate might be your first choice as it has a wide selection of designs, is durable and comes with security functions.
UniGate has over 100 designs to choose from, allowing you to change its exterior look without changing the gate itself. This is a new concept that helps save hundreds of dollars. Your gate will never go out of style and you will be spoilt by choices presented.
The inner panel designs are easy to replace and change, depending on your preference and mood, giving your house an instant makeover.
Of course, don't forget UniGate's trackless design where you will not need to worry about sinking tracks, unaligned and dirty tracks, which most conventional folding gate owners face.
It also helps avoid common accidents like trip-and-fall accidents that most people face with their current automated gates.
In terms of reliability and firmness, UniGate have 12 brackets fixed to the pillar while traditional gates only have two durability and reliability of daily usage are guaranteed.
Security and safety is what matters most when it comes to automated gates. As for security, DELUX UniGate includes a built-in alarm system, which could control and monitor the gate with the auto-close timer.
You can set the gate open button via a keypad rather than by the remote control.
This is to minimize the risk of touching the door open button mistakenly.
UniGate is mainly designed to accommodate local house owners who want a safe home and a different look from time to time. DELUX has now extended the warranty period to 10 years, which adequately proves to users the quality of the products.