Security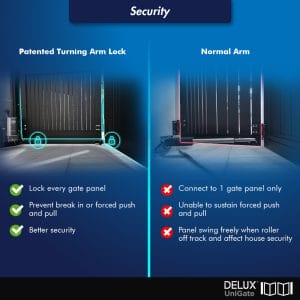 The patented turning arm lock system was customized based on the trackless autogate size in order the arm lock system are sufficient to support and lock every gate panel to prevent buglars from break in or forced push and pull intend to break and damage the trackless autogate.
Size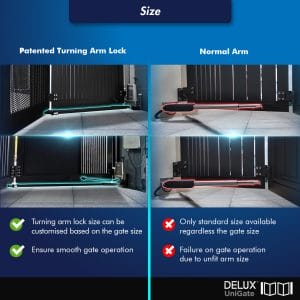 As mention, the turning arm lock system are customized based on the gate size which support and locked every panel not only to enhanced the security of your trackless autogate, but the same time it is to relief some of the weight and pressure from the aluminium equally to the overall support of the motor and also the arm lock.
Motor Lifespan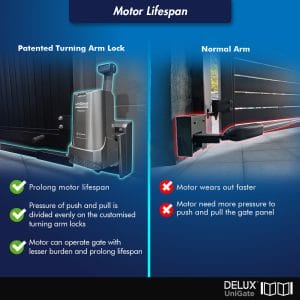 With every panel have been support by the customized arm lock system to relief the weight and pressure of push and pull. Hence, this increase the lifespan of the motor to be more solid and prolong the lifespan where motor can operate with lesser burden.
Visual Design of Turning Arm Lock System
Unlike stainless steel arm lock, the patented turning arm lock was design in slim and sleek visual. It is fully powder-coated aluminium to fit the gate colour where the patented arm lock been painted the colour that perfectly match with your gate colour
Turning Point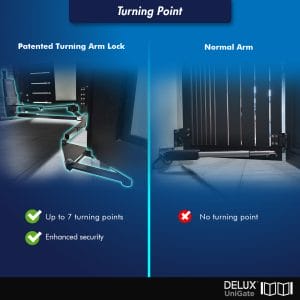 Regardless how long and width your autogate to be. DELUX trackless autogate's turning arm lock can support up to 7 turning point where it locks every panel of the gate, making it more stable and difficult to break into, strengthening the security of your house.