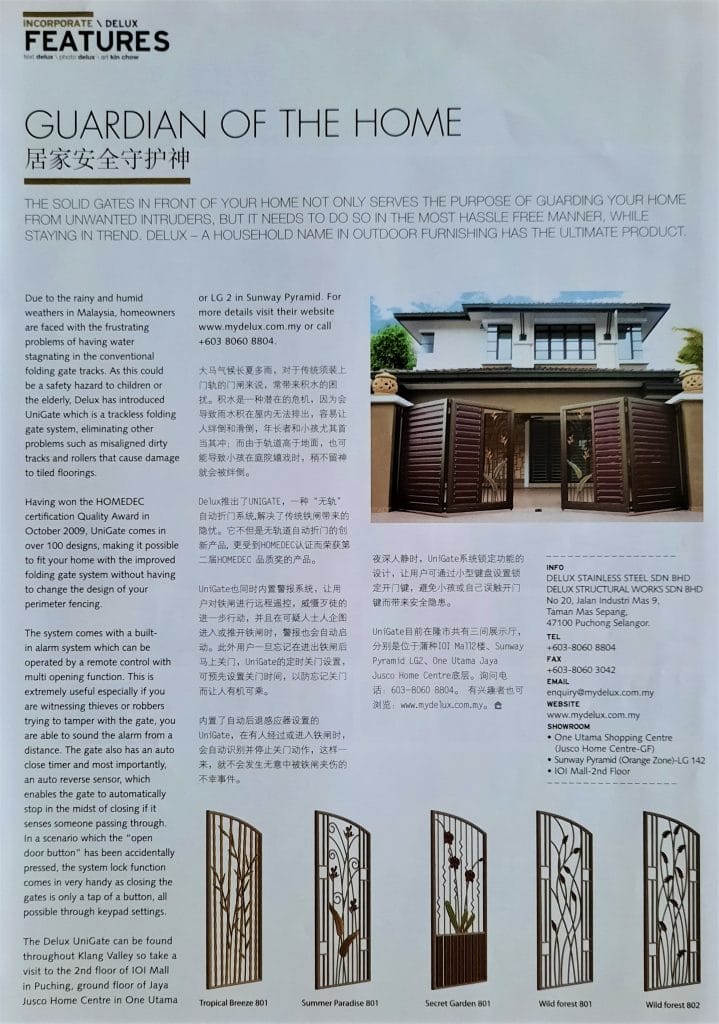 THE SOLID GATES IN FRONT OF YOUR HOME NOT ONLY SERVES THE PURPOSE OF GUARDING YOUR HOME FROM UNWANTED INTRUDERS, BUT IT NEEDS TO DO SO IN THE MOST HASSLE FREE MANNER, WHILE STAYING IN TREND. DELUX – A HOUSEHOLD NAME IN OUTDOOR FURNISHING HAS THE ULTIMATE PRODUCT
Due to the rainy and humid weathers in Malaysia, homeowners are faced with the frustrating problems of having water stagnating in the conventional folding gate tracks. As this could be a safety hazard to children or the elderly, DELUX has introduced UniGate which is a trackless folding gate system, eliminating other problems such as misaligned dirty tracks and rollers that cause damage to tiled floorings.
Having won the HOMEDEC certification Quality Award in October 2009, UniGate comes in over 100 designs, making it possible to fit your home with the improved folding gate system without having to change the design of your perimeter fencing.
The system comes with a built in alarm system which can be operated by a remote control with multi opening function. This is extremely useful especially if you are witnessing thieves or robbers trying to tamper with the gate, you are able to sound the alarm from a distance. The gate also has an auto close timer and most importantly, an auto reverse sensor, which enables the gate to automatically stop in the midst of closing if it senses someone passing through. In a scenario which the "open door button" has been accidentally pressed, the system lock function comes in very handy as closing the gates is only a tap of a button, all possible through keypad settings.