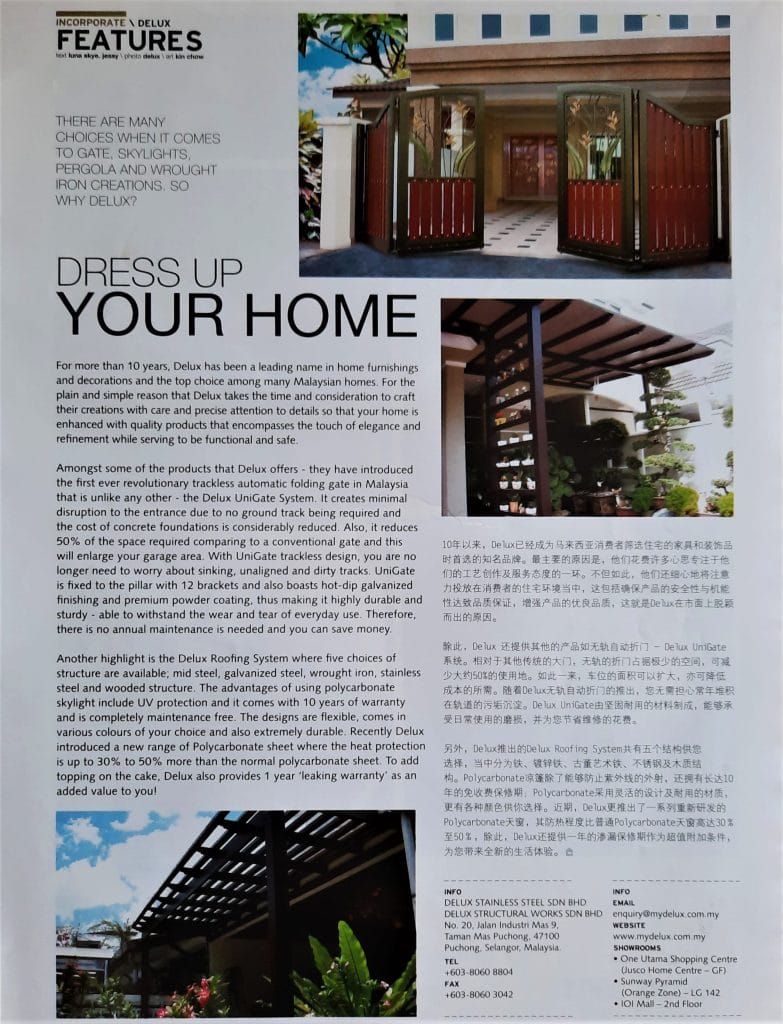 For more than 10 years, DELUX has been a leading name in home furnishings and decorations and the top choice among many Malaysian homes. For the plain and simple reason that DELUX takes the time and consideration to craft their creations with care and precise attention to details so that your home is enhanced with quality products that encompasses the touch of elegance and refinement while serving to be functional and safe.
Amongst some of the products that DELUX offers – they have introduced the first ever revolutionary trackless automatic folding gate in Malaysia that is unlike any other – the DELUX UniGate System. It creates minimal disruption to the entrance due to no ground track being required and the cost of concrete foundations is considerably reduced. Also, it reduces 50% of the space required comparing to a conventional gate and this will enlarge your garage area. With UniGate trackless design, you are no longer need to worry about sinking, unaligned and dirty tracks. UniGate is fixed to the pillar with 12 brackets and also boasts hot-dip galvanized finishing and premium powder coating, thus making it highly durable and sturdy – able to withstand the wear and tear of everyday use. Therefore, there is no annual maintenance is needed and you can save money.
Another highlight is the DELUX Roofing System where five choices of structure are available, mid steel, galvanized steel, wrought iron, stainless steel and wooded structure. The advantages of using polycarbonate skylight include UV protection and it comes with 10 years of warranty and is completely maintenance free. The designs are flexible, comes in various colours of your choice and also extremely durable. Recently DELUX introduced a new range of Polycarbonate sheet where the heat protection is up to 30% to 50% more than the normal polycarbonate sheet. To add topping on the cake, DELUX also provides 1 year 'leaking warranty' as an added value to you!