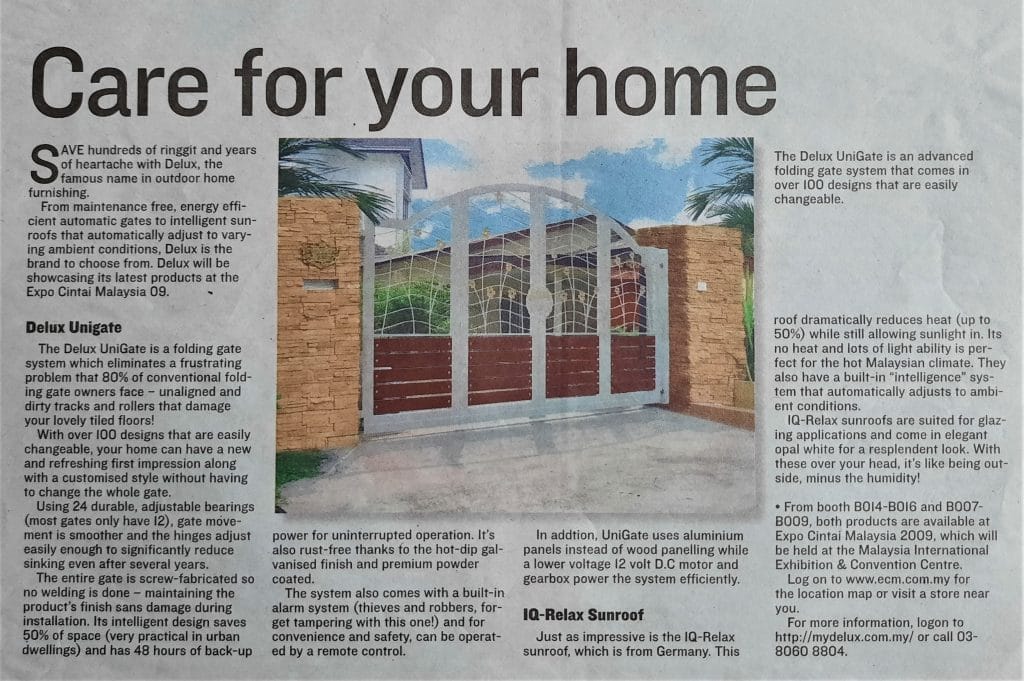 Save hundreds of ringgit and years of heartache with DELUX, the famous name in outdoor home furnishing.
From maintenance free, energy efficient automatic gates to intelligent sunroofs that automatically adjust to varying ambient conditions, DELUX is the brand to choose from. DELUX will be showcasing its latest products at the Expo Cintai Malaysia 09.
DELUX UniGate
The DELUX UniGate is a folding gate system which eliminates a frustrating problem that 80% of conventional folding gate owners face – unaligned and dirty tracks and rollers that damage your lovely tiled floors!
With over 100 designs that are easily changeable, your home can have a new and refreshing first impression along with a customised style without having to change the whole gate.
Using 24 durable, adjustable bearings (most gates only have 12), gate movement is smoother and the hinges adjust easily enough to significantly reduce sinking even after several years.
The entire gate is screw-fabricated so no welding is done – maintaining the product's finish sans damage during installation. Its intelligent design saves 50% of space (very practical in urban dwellings) and has 48 hours of back-up power for uninterrupted operation. It's also rust-free thanks to the hot-dip galvanised finish and premium powder coated.
The system also comes with a built-in alarm system (thieves and robbers, forget tampering with this one!) and for convenience and safety, can be operated by a remote control.
In addtion, UniGate uses aluminium panels instead of wood panelling while a lower voltage 12 volt D.C motor and gearbox power the system efficiently.
IQ-Relax Sunroof
Just as impressive is the IQ-Relax sunroof, which is from Germany. This roof dramatically reduces heat (up to 50%) while still allowing sunlight in. Its no heat and lots of light ability is perfect for the hot Malaysian climate. They also have a built-in "intelligence" system that automatically adjusts to ambient conditions.
IQ-Relax sunroofs are suited for glazing applications and come in elegant opal white for a resplendent look. With these over your head, it's like being outside, minus the humidity!