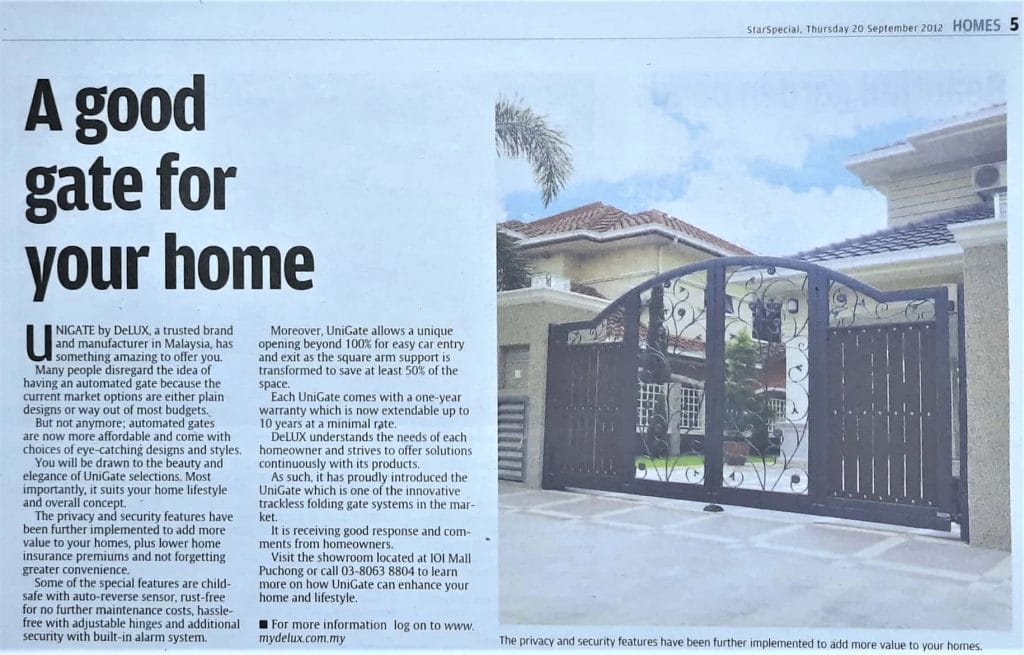 UniGate by DELUX, a trusted brand and manufacturer in Malaysia, has something amazing to offer you. Many people disregard the idea of having an automated gate because the current market options are either plain designs or way out of most budgets.
But not anymore; automated gates are now more affordable and come with choices of eye-catching designs and styles.
You will be drawn to the beauty and elegance of UniGate selections. Most importantly, it suits your home lifestyle and overall concept.
The privacy and security features have been further implemented to add more value to your homes, plus lower home insurance premiums and not forgetting greater convenience.
Some of the special features are childsafe with auto-reverse sensor, rust-free for no further maintenance costs, hassle free with adjustable hinges and additional security with built-in alarm system.
Moreover, UniGate allows a unique opening beyond 100% for easy car entry and exit as the square arm support is transformed to save at least 50% of the space.
Each UniGate comes with a one-year warranty which is now extendable up to 10 years at a minimal rate.
DELUX understands the needs of each homeowner and strives to offer solutions continuously with its products.
As such, it has proudly introduced the UniGate which is one of the innovative trackless folding gate systems in the market.
It is receiving good response and comments from homeowners.