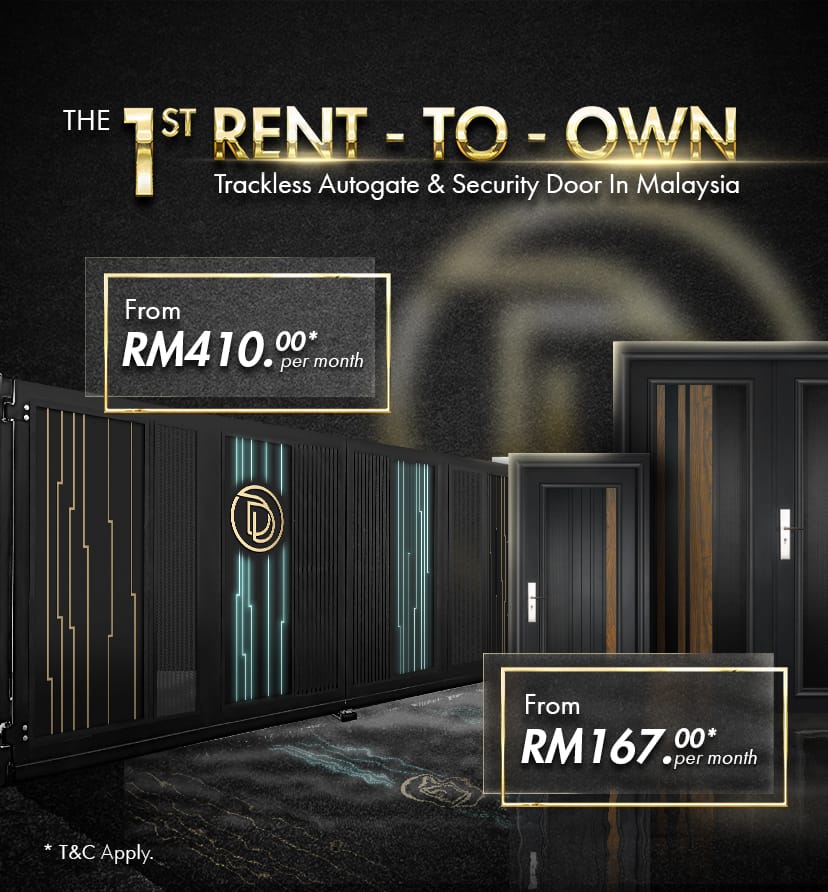 Delux Holdings (M) Sdn Bhd (DELUX) is now offering Malaysia's first RENT-TO-OWN trackless autogate and security door program in an effort to reduce the financial burden to its potential customers.
The purpose of this program is to offer customers the opportunity to rent the product and take ownership after the completion of payment according to the agreement period. The founder of DELUX, Datuk Dylan Chui explains this program gives flexibility to customers to choose a rental period according to their financial ability, either for 12, 24, or 36 months.
What's more important, there are more than 1,250 types of designs that customers can choose from in this program. With a price as low as RM167 per month for a security door and RM410 per month for a trackless autogate, homeowners are now having the opportunity to get DELUX's products for their homes.
The major benefit of this program is that customers can now make payments via auto debit on a monthly basis. Hence, there is no longer any need to be bound by credit card commitments and spend beyond the means or budget when renovating the house and purchasing furniture. Besides, Datuk Dylan explains that the economic situation and the price of raw materials are constantly increasing. With this program, customers can lock the price of the products and own them later in the future with the current market price.
At the same time, this program is able to provide comfortable flexibility as well as more efficient cash flow management methods for customers. This ensures that the customers have an affordable monthly installment rather than making a full payment with a credit card.
What are you waiting for? Live in the home of your DREAM now with DELUX!
If you are interested in DELUX's products, you may visit our website at www.mydelux.com.my or contact us at +603 8066 8804 to find out more.