DELUX customers can now have complete peace of mind knowing that they are protected by Great Eastern's insurance coverage. This additional coverage offers up to RM1,000,000 in compensation if any injuries or damages occur due to product defects.
To receive such high coverage, every aspect of DELUX's autogates and security doors is meticulously assessed for safety concerns. This ensures that the products meet the quality and design standards required for Great Eastern to provide such an extensive level of coverage.
DELUX has passed the Great Eastern Risk Assessment under several sections, which including:
1. Underwriting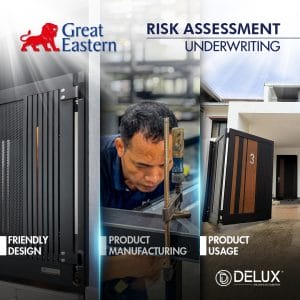 Friendly Design. DELUX has established our own design department to fulfil the customers' demand and constantly developing modern designs that cater to market trends. With over 1,250 customizable designs, DELUX guarantees a personalized touch to its products.
Product Manufacturing. All DELUX products are manufactured in-house at one of two plants in Malaysia. With in-house capabilities, you can be assured of timely delivery of your customisable auto gates, doors, and digital locks. Nevertheless, 80% of the raw materials are being machine-molded to minimize errors during transportation as well as ensuring the product quality.
Product Usage. DELUX products are made entirely from aluminum, making them adaptable to any weather condition. DELUX Unigate is for outdoor use, while DELUX Alutech doors are suitable for both indoor and outdoor settings.
2. Risk Control Evaluation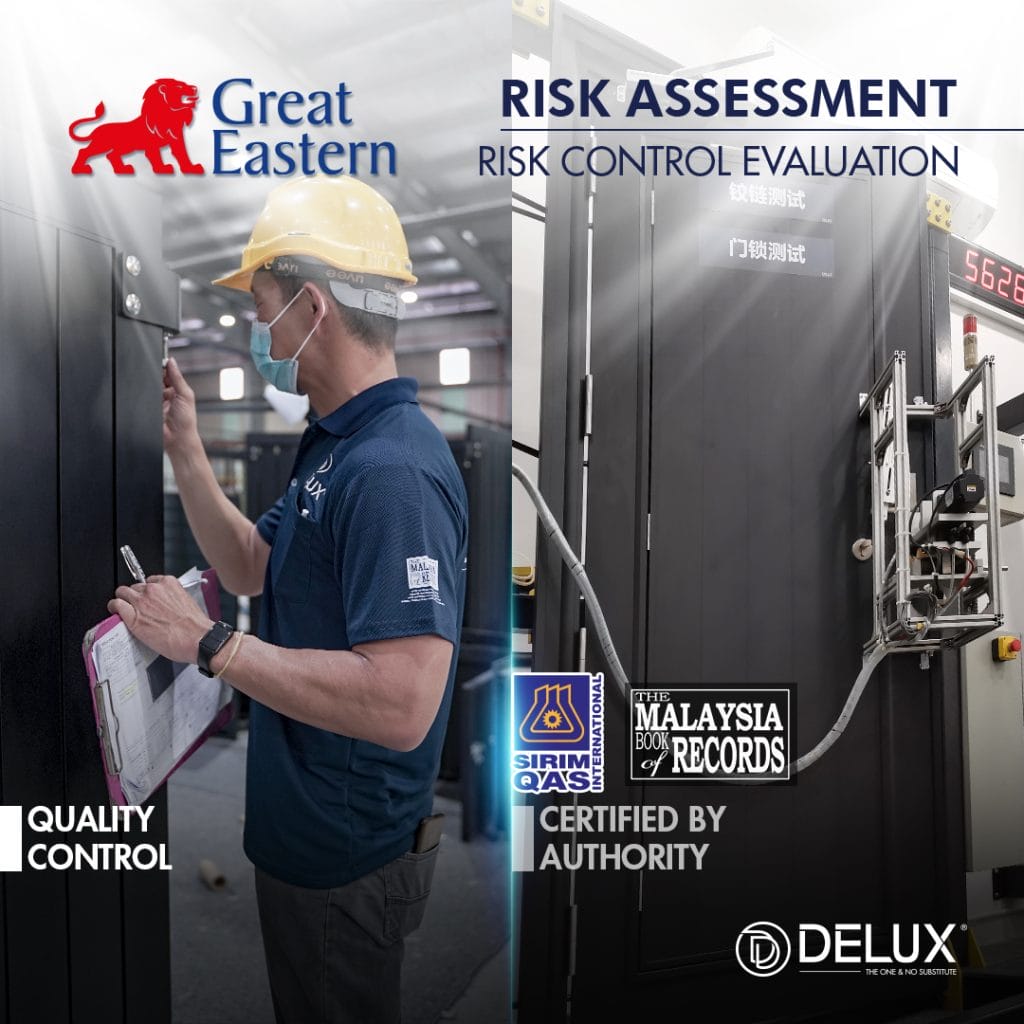 Quality Control. This allows thorough monitoring, quality control, and quality assurance over the fabrication processes. The purpose is to minimize product error which affect the installation of the products, as well as keeping the product quality and ensuring the product is safety to use.
Certified by Authority. DELUX products have been evaluated and certified by recognized authorities, indicating that they meet specific standards or requirements. This is likely to increase customers' confidence in using DELUX products, as they can be assured that they have been evaluated and approved by credible organizations.
3. Product Evaluation
Safety Feature. DELUX products are equipped with patented technologies such as D-Trinology and Alubotic systems, ensuring property safety by preventing break-ins. DELUX provides proper user manuals to homeowners for a better understanding of product care and usage.
Cautious Labelling. For each product installed, DELUX will provide a cautious labelling on the product to alert contractors during renovations, ensuring that the product remains undamaged and to keep everyone safe on the ground.
Product Briefing. DELUX's team provides customers with a briefing on product operation and testing after installation. The team attends to customers during the briefing and ensures that their queries and problems are addressed on the spot with a professional manner.
Customers can apply for compensation under the circumstances of:
If the customer or their family members suffer any injuries due to product defects. They can also apply for compensation if their property is damaged, such as broken hinges causing environmental damage. However, compensation is only applicable if the product itself has defects and has not been modified in any way.
For example, compensation can be claimed if the gate falls due to broken hinges. But if the gate falls due to unstable pillar concrete causing it to collapse, compensation cannot be claimed.
In case of an accident, Great Eastern will send an adjuster to investigate and decide whether or not to provide compensation after examining the details. This process ensures that the accident was caused by a defect in the product, thus giving customers the confidence and security they need.
Overall, Great Eastern's insurance coverage provides DELUX customers with extra protection that they won't find elsewhere. With this additional coverage, customers can say goodbye to doubts and enjoy a safer and more secure environment.
If you are interested in DELUX's products, you may visit our website at www.mydelux.com.my or contact us at +603 8066 8804 to find out more.